Flowhead Control Units
Design
Ergonomic design providing an easy to use control unit with unrestricted access for maintenance throughout. The unit has hinged doors on all 4 sides fitted with high grade stainless hinges and flush catches. Front viewing doors when closed allow the operator to see system pressures while protecting from unauthorised use.
Control Panel
The control panel is fully engraved depicting the modes of operation, with the systems being colour coded. The panel is hinged when required the control panel can be opened like a door for maintenance. All well control functions have a secondary isolator valve preventing inadvertent operation.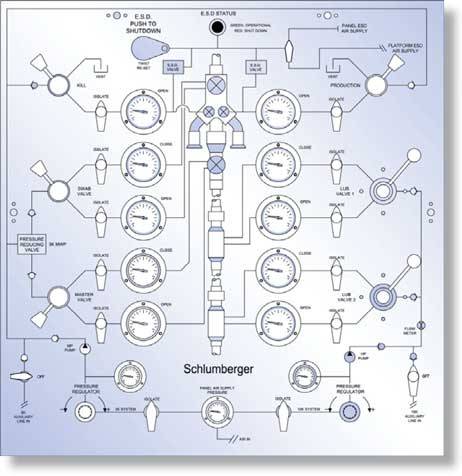 ESD
The ESD system can be instigated from a button on the control panel and also by remote pneumatic or electrical ESD signal operating on an I.S solenoid valve, these operate on the Production Open and Kill Open systems.
Supply Bulkhead
The supply bulkhead manifold has Supply isolator valves, Chart recorder points and Relief valves fitted to all 10 outlets.
Flowmeter Totaliser
A Flowmeter Totaliser provides a running total of fluid pumped to the 10 functions, the roof mounted unit can be flipped up for use when required.
Reservoir supply
In order to ensure that only clean fluid can enter the system, both reservoirs are filled by a hand pump and short hose. This allows the taking of fluid directly from a barrel via the tank top filter to the reservoir.